Shifu Weaving
You can make paper thread from Japanese Washi paper. The basic process of making paper thread is folding, cutting, rolling the paper, and tearing the edges to make one long thread. After that, the thread is spun, and the twist is set as the final step. We will make paper thread out of 3 sheets of Washi paper, and then weave Shifu with a linen warp in this workshop. The final result will be a uniquely shaped Tsunobukuro bag made from Shifu.
A Tsunobukuro is made from a single long piece of fabric, connected together on the bias to create a bag.
Prerequisite skills: weaving, warping, setting up a floor loom.

・Japanese people who would like to study weaving terms in English are welcome to join.
The class will be held in English only. Conversational-level English proficiency is required.

・英語で織り用語を学びたい日本の方も参加できます。
授業はすべて英語なので日常会話に困らない程度の英語レベルが必要です。



| | |
| --- | --- |
| Date | Mar. 1 (Mon.) - 5 (Fri.), 2021 (5 days) 9:00-17:00 |
| Tuition Fee | 60,000yen (without tax, materials fee included) |
| Capacity | 4-10 students |
| | Held in English |
| Application Deadline | 9:00 (JST) Jan. 25 (Mon.), 2021 |
Day 1 Explanation of Shifu Weaving / Folding, cutting, and rolling the paper Day 2 Tearing the edges / Spinning / Setting the twist
Day 3 Warping / Setting up the loom
Day 4 Setting up the loom / Weaving Shifu
Day 5 Weaving Shifu / Assembling the Tsunobukuro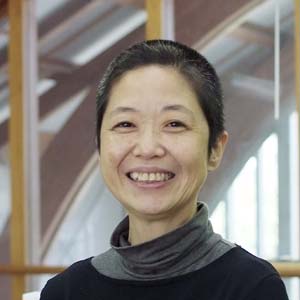 Keiko Yoshida
In 1985 Keiko Yoshida completed the Advanced Textile Research Course at Seian Women's College in Kyoto Japan. After working for a period of time at HINAYA Inc., a traditional weaving company in Kyoto, she became a studio weaving artist. While researching paper weaving she learned how to make washi paper yarn from Ms. Takiyo Hattori and Ms. Hiroko Karuno. Currently she is producing handwoven textiles and is an Adjunct Instructor at Kyoto University of Art and Design.